Ambitious scientists with big ideas who are tipped to "change the world" now have the space to succeed following the launch of a purpose-built hub in Oxford.
Grassroots is the name of the new business incubator, which opened at the Oxford Sciences Innovation (OSI) head office, at the HB Allen Centre within Keble College, on Thursday, 28th November.
OSI have partnered with Oxford Innovation, the UK's leading operator of innovation centres, to manage the new building.
Now open to entrepreneurs and fledgling businesses working in the science and technology industries, the specialist base will provide a mixture of dedicated offices and co-working space as well as phone booths, meeting rooms and a boardroom. Key figures from OSI, the University of Oxford and Oxford Innovation were on hand to celebrate the launch of the new facility.
Community Manager Claire Crawford, from Oxford Innovation, said: "We are offering a collaborative space to help propel early-stage science and technology companies so they can grow and succeed in a community environment.
"Working with OSI we have a single purpose to help outstanding scientists build and grow great businesses that can change the world."
The centre is part of the HB Allen Centre, a brand new development completed by Keble College earlier this year. Home to the Oxford Robotics Institute this new build provides accommodation for 230 post graduate students, a café, gym, 120-seat lecture theatre, seminar rooms and a large exhibition/performance space
Peter Wilder, Head of Property for OSI, said:
"The Grassroots incubator provides the perfect location for spin-outs to grow. It is an interesting melting pot of post graduates, professors and investors providing support to Oxford's talented young professionals keen to get their ideas off the ground.
"We partner early and for the long-term because we understand that it takes time to turn disruptive science into enduring business. With investments that span transition, seed and follow-on funding,  we ensure each spinout gets what it needs.
"We combine our deep experience building successful businesses with our network of investor, entrepreneurs, industrialists, and experts from Silicon Valley to Shanghai to offer advice, experience, relationships and hands-on support."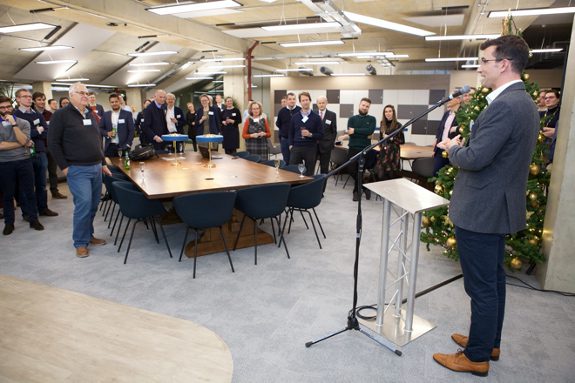 Grassroots provides a mixture of dedicated offices, suitable for teams of up to nine people, co-working space, breakout/phone booths, meeting rooms and a boardroom with state-of-the-art video conferencing equipment. A short walk from the city centre, the space is conveniently located just 10-minutes from the bus station and 12-minutes from the train station.
Ensuring their customers have everything they need, members will also have access to other HB Allen facilities including the café, gym and lecture theatres, in addition to the centre providing a unique crossover point for investors, portfolio companies and post graduates.
Interested in space at Grassroots?
Contact our Community Manager, Claire Crawford at c.crawford@oxin.co.uk or call 01865 592288 to arrange a tour.