Oxford Blockchain Conference 2023
June 18 @ 9:00 am

-

6:00 pm

£8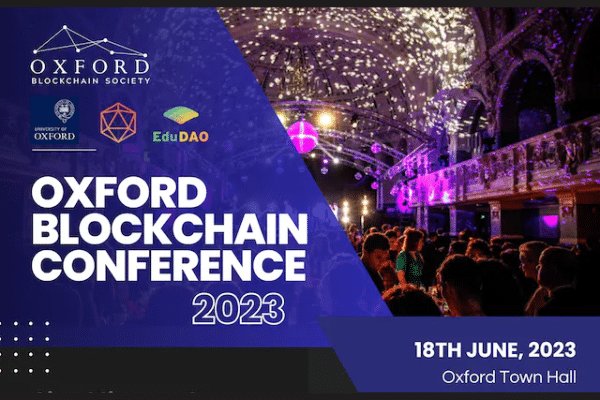 Oxford Blockchain Conference is the premier blockchain event in collaboration with Oxford University, where founders, researchers and executives of leading blockchain companies and institutions share their view on the industry.
Sponsored by leading firms in the industry like Coinbase, Cardano, Solana and AAVE, the conference is the flagship event of Oxford Blockchain Society.
We shine light on the intersection of research and industry in the blockchain space, taking in a unique perspective from a world-class research institution.
Oxford Blockchain Conference brings together global researchers, entrepreneurs, investors, developers and global media – and creates unparalleled networking opportunities. In partnership with University of Cambridge and Imperial College London, this is the community that will define the next generation of the blockchain space for the wider world.
Get a chance to stand in front of a crowd of world-class VCs in a founder pitching competition and launch your own company.
🌟 KEYNOTE SPEAKERS:ford university
d university
– Stani Kulechov (founder AAVE & Lens Protocol)
– Eli Ben-Sasson (founder Starkware & ZCash)
– Arthur Breitman (founder Tezos)
– Prof. Bill Roscoe (ex-Head of Computer Science Department @ University of Oxford, Lead at the Oxford Blockchain Research Centre)
Not technical? No problem! There is a no-code hackathon (hosted and sponsored by Popcorn).
Don't miss this chance to enhance your blockchain knowledge and connect with world-class researchers and students.
Tickets are free for students (ID required) and £8 for non-students (£3 if retweeted!). Get your tickets now and immerse yourself in the world of blockchain!
In partnership with EduDAO: https://www.oxfordblockchain.xyz/conference